The following videos are short clips to give you an overview of John's style of presentation. To view the video, click the play button.
Media photos of John are available for download for your marketing purposes on this page. Please scroll down to view them.
John's YouTube channel is full of informal discussions on retail trends and techniques. Click on the YouTube icon below to view his channel.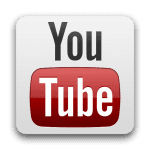 John Stanley talking about bundle retailing on Channel 7's Today Tonight.
John Stanley Promotional video
Bill Bown and John Stanley discuss marketing and advertising trends and opportunities in the horticultural industry for 2009 and beyond.
John Stanley's winning ideas in consultancy and charismatic presentations are reflected in the huge successes achieved by his many globally diverse clients. John is now one of the most sought-after conference speakers and retail consultants on the planet.
Photos of John to Download
To download copies of John's images for your media, click on the desired thumbnail below to view the full sized image. Then right click the image and choose the 'save as' feature to save a copy to your computer.